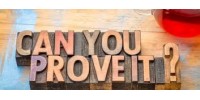 De nieuwe bewijsregels (vervat in Boek 8 van het B.W.) zijn in werking getreden op 01/11/2020. We zetten de principes nog even op een rij.
Artikel 8.11 regelt het bewijs door en tegen ondernemingen.
Het begrip 'ondernemingen' is ruimer dan de vroegere begrippen 'handelaar' en 'handelsverbintenissen' en impliceert thans dat ook vrije beroepers en landbouwers hieronder vallen.
De bewijsregels zijn de volgende:
1) Tussen en tegen ondernemingen mag het bewijs geleverd worden door alle middelen van recht. Dit impliceert dus ook de digitale bewijsmiddelen zoals e-mails en sms-berichten.
De vrije bewijsregeling geldt echter niet:
- Tegen personen die geen onderneming zijn.
- Tegen natuurlijke personen die een onderneming uitoefenen ter zake van het bewijs van rechtshandelingen die kennelijk vreemd zijn aan de onderneming.
De vrije bewijsregeling geldt dan weer wel voor personen die geen onderneming zijn in hun rechtsgeschillen tegen ondernemingen.
2) De boekhouding van een onderneming heeft een wettelijke bewijswaarde tegen een andere onderneming indien er overeenstemming is over de gegevens in de boekhouding van beide ondernemingen.
In alle andere gevallen (en dus in geval van een onregelmatige boekhouding) beoordeelt de rechter vrij de bewijswaarde van die boekhouding.
3) De rechter kan de 'openlegging' van de boekhouding bevelen, hetzij ambtshalve, hetzij op verzoek van de partijen.
4) De bewijswaarde van facturen.
De factuur levert ten aanzien van een onderneming het bewijs van de aangevoerde rechtshandeling op voorwaarde dat de factuur aanvaard werd, of niet binnen een redelijke termijn werd betwist.
Een dergelijke factuur geldt als bewijs voor allerlei soorten overeenkomsten.
Het bewijs is evenwel weerlegbaar, dit wil zeggen dat de onderneming steeds het tegenbewijs mag leveren.
Ten aanzien van een persoon die geen onderneming is, kan een gebrek aan betwisting van de factuur niet worden beschouwd als een aanvaarding, tenzij het gebrek aan betwisting een zgn. "omstandig stilzwijgen" uitmaakt. Elke clausule of overeenkomst die hiermee strijdig is, is nietig.
Voor meer informatie kan u terecht op het nummer 02/538.32.50 of per mail of direct een afspraak maken.
Thierry Decoster
Legal Assistant Sub Rosa Legal