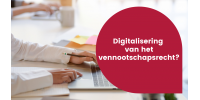 De wet van 12 juli 2021 tot wijziging van het Wetboek van Vennootschappen en Verenigingen en van de wet van 16 maart 1803 houdende organisatie van het notariaat is op 1 augustus 2021 in werking getreden. Deze wet vormt de omzetting van Richtlijn (EU) 2019/1151 inzake het gebruik van digitale hulpmiddelen en processen in het vennootschapsrecht.
De Richtlijn 2019/1151
De Richtlijn 2019/1151 is een verordening met een duidelijk doel: de digitalisering van het vennootschapsrecht.
De bepalingen van deze richtlijn strekken er immers toe het vennootschapsrecht van de lidstaten aan de modernisering aan te passen door het verrichten van bepaalde handelingen via digitale weg mogelijk te maken.
In dit verband voorziet de richtlijn met name in de verplichting voor de lidstaten om een elektronisch register op te zetten en bij te houden waarin vennootschapsdocumenten en openbaar te maken informatie rechtstreeks kunnen worden neergelegd. Dit register moet toegankelijk zijn voor het publiek, dat deze informatie via een elektronisch platform gratis moet kunnen raadplegen. De andere belangrijke wijziging die door de richtlijn wordt opgelegd, en die vernieuwend is voor het Belgische recht, is de verplichting voor de lidstaten om een elektronische procedure voor de oprichting van vennootschappen in te voeren. Elektronische oprichting betekent dat vennootschappen volledig online, via het internet, kunnen worden opgericht.
De wet van 12 juli 2021
De wet van 12 juli 2021 zet Richtlijn 2019/1151 om in Belgisch recht.
Zoals hierna wordt aangegeven, is de belangrijkste nieuwigheid die uit deze omzetting voortvloeit, dat het, sinds de inwerkingtreding van de wet op 1 augustus, naar Belgisch recht mogelijk is een vennootschap volledig online op te richten. Dit zal mogelijk zijn voor alle vennootschapsvormen en betreft het gehele oprichtingsproces: van het opstellen van de statuten tot het ondertekenen van de akte. Het gehele oprichtingsproces kan via een elektronisch platform worden uitgevoerd.
Het gaat om een echte breuk met de praktijk in België. Tot nu toe was het verplicht om persoonlijk voor de notaris te verschijnen om de oprichtingsakte te ondertekenen. Sinds 1 augustus is deze verplichting dus verdwenen.
Deze wet betekent echter niet dat notarissen niet langer zullen tussenkomen in het oprichtingsproces van vennootschappen. Zij zullen nog steeds betrokken zijn bij het verlijden van de akte, maar dit kan per videoconferentie gebeuren. Alleen de verplichting om persoonlijk te verschijnen is tot niets herleid, behalve om redenen van algemeen belang (bijvoorbeeld bij verdenking van identiteitsdiefstal).
De aanneming van deze wet zal derhalve een wijziging van het Wetboek van vennootschappen en verenigingen impliceren, maar dit zullen geen ingrijpende wijzigingen zijn. Deze zullen beperkt blijven tot de opneming in verschillende bepalingen van de mogelijkheden van oprichting of ondertekening via elektronische weg.
Er zijn ook andere kleine wijzigingen (verkorting van de indieningstermijn in geval van elektronische oprichting, databanksysteem voor vertegenwoordigingsmandaten, ...)
Indien u nog vragen hebt of informatie wenst, aarzel dan niet om contact op te nemen met ons advocatenkantoor via e-mail, telefonisch op het nummer 02/538.32.50 of rechtstreeks op afspraak.
Jordan Mabiala
Advocaat Sub Rosa Legal