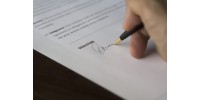 Het is niet ongewoon dat ondernemingen die een dienst voor verkoop op afstand via internet aanbieden, op hun site geen algemene verkoopvoorwaarden voorstellen. Nog steeds worden algemene verkoopvoorwaarden te vaak door ondernemingen genegeerd. Hoewel zij niet verplicht zijn, worden zij sterk aanbevolen, vooral in het geval van verkoop op afstand.
1. Noties
De algemene verkoopvoorwaarden verzamelen in een overeenkomst alle informatie die de relatie tussen de verkoper en zijn klanten omkadert en het juridische kader van de verkoop vaststelt. Zij hebben immers tot doel de klant in kennis te stellen van de verkoopsvoorwaarden, zoals de betalingsvoorwaarden, de leveringsvoorwaarden, aansprakelijkheidskwesties of de bevoegde rechtbank in geval van een conflict.

De algemene verkoopvoorwaarden bepalen ook de rechten en plichten van de verschillende partijen. Er kan een beding van retentierecht, een recht van betwisting of een beding van eigendomsvoorbehoud worden opgenomen.
In het algemeen vormen de algemene verkoopvoorwaarden en de verschillende clausules ervan de koopovereenkomst die de verkoper aan de koper gaat binden.
2. Afdwingbaarheid
De algemene verkoopvoorwaarden worden eenzijdig door de verkoper opgesteld. Om tegenstelbaar te worden aan de koper, moeten de algemene verkoopvoorwaarden vóór het sluiten van de koop ter kennis van de koper zijn gebracht. Zij moeten hem dus zijn meegedeeld voordat hij instemt met de aankoop van het product of de dienst.
Ten tweede moeten de voorwaarden door de potentiële koper worden aanvaard. Deze aanvaarding kan uitdrukkelijk of stilzwijgend zijn, zolang zij maar zeker is. Men moet dus zeer voorzichtig zijn met de afdwingbaarheid van de algemene voorwaarden. Het komt vaak voor dat algemene voorwaarden niet tegenstelbaar zijn aan een koper omdat zij na het sluiten van de overeenkomst aan de klant zijn meegedeeld (bijvoorbeeld op de achterkant van het verkoopbewijs).
Ideaal zou zijn dat bij verkoop op afstand via internet een specifiek vakje wordt aangekruist voor de potentiële koper, waarin deze verklaart kennis te hebben genomen van de algemene verkoopvoorwaarden en deze te aanvaarden. Dit elimineert elke onzekerheid.
3. Verplichte clausules
In beginsel staat het de verkoper vrij de clausules in te voegen die hij wenst, overeenkomstig het beginsel van de wilsautonomie. In het geval van verkoop op afstand zijn er echter enkele clausules die verplicht moeten worden opgenomen. Dit is bijvoorbeeld het geval met de verplichting om de consument in kennis te stellen van zijn herroepingsrecht overeenkomstig artikel VI.48. van het Wetboek van economisch recht.
4. Hebt u algemene verkoopvoorwaarden nodig?
Eind april zal Sub Rosa Legal in haar Legal Concept Store een model van algemene verkoopvoorwaarden via internet aanbieden, dat de standaard- en verplichte clausules bevat die in dit soort documenten voorkomen.

Het product zal ook beschikbaar zijn in Frans!
Als u nog vragen heeft of als u een meer gepersonaliseerde behandeling nodig heeft, gelieve contact op te nemen met ons advocatenkantoor via e-mail, per telefoon op 02/538.32.50 of direct een afspraak maken.
Jordan Mabiala
Advocaat Sub Rosa Legal