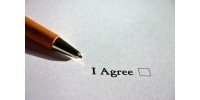 In het artikel "Het belang van algemene verkoopvoorwaarden" dat op 19 maart in onze newsletter werd gepubliceerd, hebben wij erop gewezen dat ondernemingen de neiging hebben algemene verkoopvoorwaarden te verwaarlozen. Deze verklaring is nog meer van toepassing wanneer het gaat om privacybeleid.
Wat is het?

Een privacybeleid is een document waarmee de eigenaar van een website zijn gebruikers informeert dat hun persoonsgegevens worden verzameld en om welke redenen. Het is een aanvulling op de algemene verkoopvoorwaarden.
In het privacybeleid moet niet alleen de aard van de verzamelde persoonsgegevens worden gespecificeerd, maar ook de wijze van verzameling, de bewaartermijn en het doel waarvoor de gegevens worden verzameld. Het doel verschilt van site tot site. Dit kan gaan van het eenvoudig versturen van newsletters tot het beheer van de boekhouding of de belastingen van de onderneming.
De bescherming van de verzamelde informatie moet eveneens gewaarborgd zijn.
De site kan cookies gebruiken om gegevens te verzamelen over de surfgewoonten van de gebruikers om een meer aangepaste dienst te kunnen aanbieden. Indien dit het geval is, moet dit in het privacybeleid worden vermeld.
Ten slotte moet het privacybeleid van een website de gebruikers ook informeren over hun rechten. De gebruikers hebben immers in beginsel het recht om hun informatie in te zien of te corrigeren. Het is ook mogelijk het recht te voorzien om te verzoeken dat persoonsgegevens worden gewist.
Binnenkort beschikbaar in de Legal Concept Store

Sub Rosa Legal biedt momenteel een model van privacybeleid aan in haar Legal Concept Store. Er wordt ook een pakket samengesteld waarin het privacybeleid en de algemene voorwaarden - die reeds beschikbaar zijn - worden gecombineerd.
Het product zal uiteraard ook in het Frans beschikbaar zijn.
Indien u nog vragen heeft of een meer persoonlijke behandeling wenst, aarzel dan niet om contact op te nemen met ons advocatenkantoor via e-mail, per telefoon op 02/538.32.50 of rechtstreeks op afspraak.
Jordan Mabiala
Advocaat Sub Rosa Legal