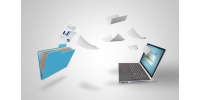 Advocaten die zich willen afzetten tegen alle vernieuwingen, niet bij Sub Rosa Legal.
We moeten de onafwendbare digitale realiteit voor ogen zien, ook binnen justitie zal de papieren wereld niet meer allesoverheersend zijn. Bovendien hebben de recente gebeurtenissen noodzakelijkerwijze voor een stroomversnelling in de digitalisering gezorgd.
Niet enkel het milieu heeft baat bij een paperless mentaliteit, ook de advocatuur heeft er belang bij om die omschakeling niet aan zich te laten voorbijgaan.
Iedereen productiever
Een paperless office draagt bij tot een overzichtelijkere en centrale indeling van dossiers, doordat er gebruik gemaakt wordt van een uniforme documentnaamgeving en een identieke indeling van elk dossier. Door deze centrale opslag kunnen alle documenten door iedere medewerker teruggevonden worden en kan iedere medewerker via deze manier snel ingezet worden in de dossiers. Zo kan de cliënt niet alleen bij meerdere medewerkers terecht met zijn vragen, ook kan hij een snelle dienstverlening verwachten.
De integratie van de knowhow van het kantoor in een volledige papierloze structuur zorgt bovendien dat men ook buiten de kantoorruimtes kan blijven werken. Dat laatste is onontbeerlijk in het licht van de impact die COVID 19 heeft op de traditionele manier van werken. Dankzij onze paperless office heeft Sub Rosa Legal de perfecte balans gevonden tussen de continuïteit van de dienstverlening en de bescherming van de maatschappij. Elke medewerker kan bovendien elke evolutie in het dossier in real time meevolgen waardoor er een grotere betrokkenheid met elke zaak ontstaat. De digitale opslag van kantoorkennis gaat dus hand in hand met een hogere productiviteit en een optimale dienstverlening.
De scanner is je vriend
Een andere doel van de volledige digitalisering is tijdswinst. Het scannen van documenten maakt het namelijk mogelijk om grote aantallen documenten snel te doorzoeken, in de plaats van zich te verliezen in grote stapels papier. De tijdswinst voor omvangrijke dossiers kan groot zijn. Zo kan er meer tijd besteed worden in de dienstverlening aan de cliënt. Daarnaast impliceert een paperless office dat alle documenten zo snel mogelijk naar de cliënt worden opgestuurd of aan de cliënt worden terugbezorgd.
Het indekken van het risico op informatieverlies
Digitale documenten zijn over het algemeen ook veel veiliger dan papieren equivalenten. Het feit dat digitale documenten gemakkelijk te back-uppen zijn buiten het bedrijf betekent dat deze minder snel worden verloren als gevolg van brand, diefstal of andere risico's op informatieverlies. Weten dat de documenten veilig zijn, brengt bij de cliënt de nodige gemoedsrust.
GDPR
Door de toegang tot persoonlijke gegevens van de cliënten te veilig te stellen via de opslag ervan in een online beveiligd documentenarchief, kunnen wij de vertrouwelijkheid van elke informatie die de cliënt ons toevertrouwt, garanderen. Daarmee gaat samen dat wij, indien één van onze cliënten zijn of haar persoonlijke gegevens uit de beveiligde opslagruimte wil verwijderen, dit met één druk op de knop kunnen doen, zonder enig risico. Bovendien zorgt dergelijke beveiligde toegang dat het kantoor in overeenstemming is met de General Data Protection Regulation en kan er worden voorkomen dat er forse boetes worden uitgedeeld.
Ruimtebesparend
Een paperless office heeft eveneens als voordeel dat de lopende meters mappen in kasten en het extern archief kunnen worden opgedoekt, met een opgeruimd bureau als resultaat.
Papierarm of papiervrij worden op kantoor is nu meer dan ooit de moeite waard
Het besparen van papier brengt dus niet alleen voordelen met zich mee zoals het centraalstellen van de dienstverlening, het veiligstellen van vertrouwelijke informatie, het besparen van tijd en ruimte en het behoud van onze planeet, maar maakt medewerkers ook productiever en soms zelfs gelukkiger.
Sarah Elslander
Advocaat Sub Rosa Legal